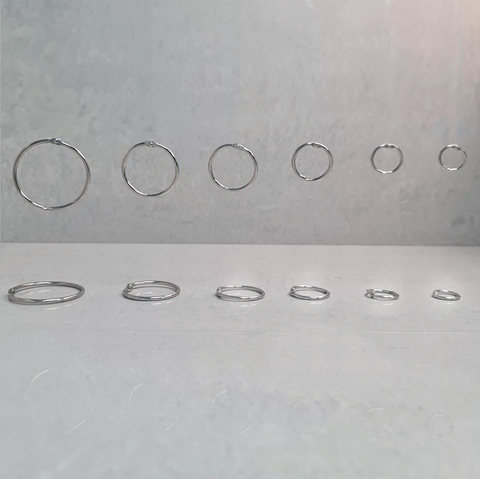 Hinged Rings - Nickel Binding Rings
€23.61 EUR

ex. VAT

(

€28.33 EUR

inc. VAT)

€28.33 EUR

inc. VAT

(

€23.61 EUR

ex. VAT)

In Stock Now
---
---
Hinged binding rings are a simple hinged metal ring that will quickly twist apart and clip together to provide a secure fixing for documents and swatches of all thicknesses from a couple of sheets up to 45mm thickness.
Binding rings can be used with swatches, to quickly bind documents through punches holes or for use in POS and hanging applications. The steel binding rings we stock are a sturdy, heavy gauge metal with a strong latch fixing when closed shut.
Hinged binding rings are made from steel coated with nickel to give an attractive chrome finish. We stock binding rings in diameters of 14mm, 19mm, 25mm, 32mm, 38mm and 50mm. The maximum capacity that can be bound with the rings is 10%-20% below the diameter size, depending on the material being used.
Hinged binding rings are supplied open in diameters, 14mm, 19mm and 25mm.  Diameters 32mm, 38mm and 50mm are supplied closed.
Additional Information:
Stocked in 6 different diameters, metal gauge increases with diameter.
Free samples available of all sizes, select from above options.
Capacity is around 15% less than ring diameter.
Twist to open hinged metal ring and click
Also known as:
Hinged rings
Steel binding rings
Binding rings
Nickel rings
Silver binding rings
Latch rings
What our customers say about hinged binding rings:
'Our regular order for the hinged rings is for an ongoing job of small texture samples, the 19mm rings are idea to secure several sheets of different materials and the swatch can easily be flipped around. We've done so many now our fingers can pull the rings open and flick them shut on autopilot… Never had any problems with them, thanks for your great service Matthew'
'I often end up binding 100 page print outs with binding rings when I know they are going to be binned within a few days I don't think it's worth all the punching to do a full wire bind so I simply punch a couple of file holes in the print outs and put 38mm rings in there. Does the job fine.'
'We've used the hinged binding rings on a couple of long projects, you being able to get them to us already opened was a complete lifesaver. Thank you.'
'That's funny you should be asking about hinged metal rings as (apart from some memories of using them as earrings – DON'T ask) we'll be needing some again shortly and I'll be very happy to order from you again. Your prices are good, I think we come to you for pretty much everything. Nice to hear from you again, we'll be in touch tomorrow to order.'
Typically used with:
Point of sale fixings
Hole punches
Binding screws
Ceiling hangers
---
We Also Recommend