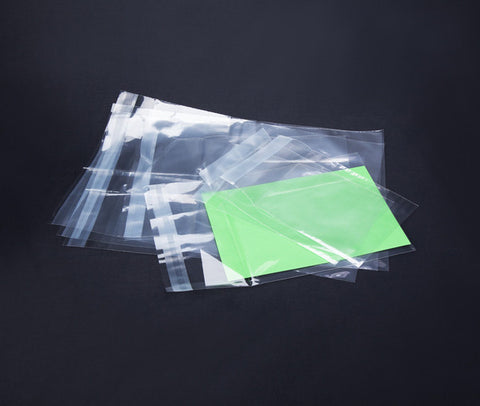 Clear Envelope Bags Cellophane Type - Pack of 1000
€69.41 EUR

ex. VAT

(

€85.37 EUR

inc. VAT)

€85.37 EUR

inc. VAT

(

€69.41 EUR

ex. VAT)

In Stock Now
---
---
Clear cellophane-type card envelopes are a great way to package your products in an eye-catching way. Due to the transparency of the envelopes they are ideal for a wide range of uses including displaying greeting cards, prints/mounts, photography, artwork and for packaging magazines. They also act as a moisture barrier to prevent items spoiling.
We have sourced a better, cleaner plastic for our envelopes over standard cellophane and these envelopes do not have the annoying loud crackle of traditional cellophane envelopes. They are crystal clear (none of the slight yellow tint with some cellophanes) and are a more environmentally friendly solution – they are completely recyclable!
They have a re-sealable strip so they can easily be re-opened without damaging the product. To see the strength and quality of our envelopes, simply request a free sample and try them out.
More Information
38 Micron thickness
Available in 3 different sizes
Re-sealable strip
Also known as:
Cellophane mailing bags
Polypropylene bags
Re-sealable bags
Crackly plastic envelopes
What our customers say about this product:
'What do I think about this product? I thought 'Great, Presco is finally stocking cello envelopes!' I've been ordering them through your specials people for years, nice to see some in the catalogue now. I will be ordering soon.'
'Hello Presco, I would like to say I like your new envelopes you have sent me and the lady I spoke to told me about them being polyprop which is excellent as we are using recycled cards inside these envelopes so it is nice to say the envelopes can be recycled after use too.'
---
We Also Recommend