Posted by Phoebe Pomeroy on

Presco offers a free sample service, we strive in helping our customers get exactly what they need to finish the job to satisfaction.  We send many requests for samples each day and successfully help our customers all the way through their various projects. You may need even up to 4 different samples to work out the best solution - that's ok, as long as we find the correct solution we are happy! You can order samples online of most product lines by simply adding a sample option to your basket.  If there is a project you may be not sure what...
Posted by Phoebe Pomeroy on

Free delivery on any order over €60 placed between now and Tuesday 21st December! (Order value before VAT and for standard delivery only)   - Use Voucher code XD16 to claim your FREE DELIVERY - ORDER NOW!   CHRISTMAS OPENING HOURS Monday 19th December - Thursday 22nd December Opening hours as usual Orders taken on Wednesday 21st December can only be despatched that day on next day priority delivery or will otherwise be despatched on Tuesday 3rd January 2017.   Friday 23rd  December - Monday 2nd January Presco will be closed for this duration of time Orders can be placed...
Posted by Phoebe Pomeroy on
We want to make your day even better!  For every order placed with us from today 14th March until 4pm Thursday 24th March we will send a free bag of Cadbury Mini Eggs.  No discount codes or minimum spend charges we'll pop them in with whatever you order. Place your order now by email sales@presco.eu, telephone (01) 841 1081 or on our great website. Have you got your own copy of our most recent catalogue? Give us a call on (01) 841 1081 or drop us a line sales@presco.eu and we'll be happy to send you a copy of our catalogue; be...
Posted by Matthew Painter on
Thank you for all your loyal custom this year. Its time for the gift to start! We've got a great reward for all your business this year, get into the festive mood with a free large tub of Cadbury's chocolates with every order from now until Christmas. No need to quote any special codes, just place any size order from now until we close for the holiday at 5pm on Wednesday 23rd December. Our only small print is that this offer is limited to one tub per customer per day, and if we run out of Cadbury's Heroes we may send...
Posted by Jessica Joynt on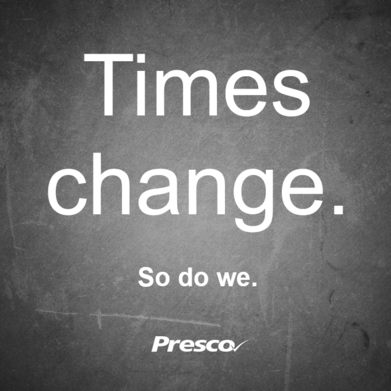 In our rapidly changing information age of creating, researching and buying online we understand that we need to work harder for your business now.  That's fine with us. It keeps us on our toes and means we are always thinking about what else we can do to win your trust and your orders. We no longer just print a bunch of catalogues, send them out and sit back waiting for your orders. We now spend every spare minute picking up the phone to ask you how you use display and finishing products, and if you would like a new Presco catalogue. Later, we'll make sure...