Posted by Jonas Painter on
Q. Is there a difference between fanapart and padding glue? A. Fanapart glue is required for carbonless invoice sets commonl known as NCR sets.  it is a special glue which is much more watery than padding glue and only takes 1 hour to dry. Padding glue consists of thick white PVA-type glue for standard padding and binding into pads.  It takes several hours to dry and requires separating with a separating knife.
Posted by Matthew Painter on
An interesting question we have had from a customer and maybe others have been wondering too, well maybe we can help: Q: Is there an alternative product that I can use instead of the swatch fastener when I want to be able to open and take out pages and put this together again as obviously I know the swatch fastener is a permanent fixture once closed. A:  Yes there are other options that can be used instead of a swatch fastener to in effect achieve the same result.  Steel binding rings and binding screws are the most common options which...
Posted by Chris Joynt on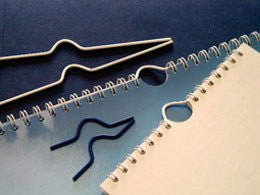 We are all aware time is running out for 2016 but there is still time for those last minute calendar orders or even more importantly your own company calendars! In stock for despatch today to get those calendars in swift production before our last goodbyes in 2016, click on the images below to view our complete range of wires and hangers in stock.          Alternatively why not try our calendar cases - perfect for rapid yet effective production of your calendars.  These can be made in no time at all and are a nice neat addition to any desk.  Click here...
Posted by Matthew Painter on
Did you know people achieve incredible display pieces everyday using magnets?  They can be hidden inside boxes, folders, placed on the back of signs, used with name badges and much much more.  We stock self-adhesive and non-adhesive, rubber and Neodymium - every option there for whichever will work best for you.  They can be surface mounted in adhesive or hidden with non-adhesive some with a closing power of nearly 2Kg! Get clever with your presentation proposals and really impress your clients by producing a modern minimalistic but clever concept.  Request samples today to try on any of your jobs. t....
Posted by Jessica Joynt on
Sticky plastic pockets are a Presco favourite!  We have always been trusted for quality in adhesive products but these are a long standing part of the history of Presco.   Our range of adhesive plastic pockets, wallets and corner pockets always comes out top.  Perfectly clear polypropylene, reliable consistent adhesive, excellent durability and environmentally friendly make Presco the choice for thousands of customers who return time and again to rely on us for their self-adhesive product needs. Interested in knowing or seeing more?  We can send out free samples of any of our plastic pockets or alternatively a whole sample pack...
Posted by Phoebe Pomeroy on
We recognise that peace of mind is key when finishing jobs with double sided tape.  Nobody wants to see a job returned where the tape is coming off and a client is demanding a reprint that is why we spend so much time researching and sourcing the right tape for you. We have had many customers who have been unhappy with their current source of supply of tapes but didn't know who else to get it from.  Other customers tell us they find inconsistency, they work great one time and fail the next - a very exasperating experience.  But would...
Posted by Matthew Painter on

Do you ever get frustrated when you open a box to quickly do a box and 30 minutes slips away before you even get started because the wires have been left tangled in the box?  We have the answer, while it may seem nearly impossible to get all the wires apart again  you can do this in a matter of seconds.  Simply drop the tangled wires onto a flat hard surface a couple of times and they should just fall apart from each other by themselves.  This works 9 times out of 10 and is sure an easy solution! Many...
Posted by Jonas Painter on

These neat small 22mm squares are perfectly clear and just 0.5mm thick so your posters can now sit flat on a window and they won't hinder the appearance of your poster - they're almost invisible!  They have good strong grip yet when you come to take the poster down they come off without leaving any residue on the surface!  So no more forward thinking required if the posters are going to be used in different areas you can simply print and hang in your window in minutes. Request samples of this great new versatile product to try for yourself -...
Posted by Jessica Joynt on
Presco have been stockists of Renz binding wires for years. Customers trust the personal Presco service and our commitment to stock the products you need, every time. But what makes Renz binding wires from Presco truly special is the wire itself. Renz is a German company with a long and proud history of making exceptionally reliable binding and finishing products. When you buy Renz binding wires you are buying into decades of innovation and engineering perfection. Each wire is carefully protected on cardboard holding sleeves, meaning no tangling or spoiled wires. View our stocked range of the Renz cut length A5...
Posted by Phoebe Pomeroy on

For those of you loyal customers out there who remember we used to stock Tungsten coated drill bits -they're back!  We have got them back into stock in both the standard fitting and also the extra long Iram fitting. Tungsten coated drill bits are drill bits that last up to 10 times longer than standard drill bits.  The tungsten TCT coating is extremely hard and durable and makes the bit resistant to problems such as heat and cracking. View standard fitting tungsten coated paper drill bits here. View Iram fitting tungsten coated paper rill bits here.
Posted by Jessica Joynt on

Welcome to the range crossweave banner tape!  This is a strong cross weave filament tape which can be used for many many things among them, finishing edges of banners, materials and boards or in other high vlaue packaging.  We hold this in stock in 3 widths on 50m roll lengths, click here to view and buy this product. Cross weave tapes are a general purpose tape reinforced with opposing directional glass filaments.  It has a strong plastic backing which gives special protection from weather elements such as damp and moisture or abrasion, scuffs or scratches.  The adhesive is very strong...
Posted by Jessica Joynt on

We've recently introduced a clever little product for simple, hassle free fixing of tags to items and many other uses. It is rubberised tranparent plastic loop that can quickly be twisted to form a secure loop around any case or fixed item.  Request a fee sample to have a look at these new tags and experiment with your own projects.
Posted by Phoebe Pomeroy on

We launched this new product a few weeks ago and have had a great response from customer that this is exactly what they have been looking for! We're very happy to help  and have got stocks of both size brushes ready for rapid delivery. Our anti-static brushes are a very high quality engineered fibre brush designed to quickly and harmlessly disperse any static electricity build up of static is instantly removed and work can be stacked neatly without attracting dust or causing problems when trimming.
Posted by Phoebe Pomeroy on
The new display, finishing and presentation guide and catalogue has arrived, full of inspiration, new products and solution for finishing, packaging, print workshops and much more. Next time you order you can simply add it to your order here, we can sent out multiple copies if you need several for purchasing, sales or operations personnel. Regular customer will also be receiving their own catalogue packs including the latest Guarantape leaflet, these will be arriving with you over the next few days.
Posted by Phoebe Pomeroy on
Q: Do you sell Renz wires as well as Presco branded wires? A: Yes, yes, yes! Our key line of Presco trade wires offer a value way to buy large quantities of binding wire but we have always stocked the full range of Renz premium wires in 7 colours. We have been a key distributor of Renz machines and supplies for over 20 years and have always trusted and recommended their excellent products. We keep large stocks of all wires, plastic coils and binding machines, call us to enquire about Renz machines or supplies. With around 2,000 boxes of Renz...
Posted by Matthew Painter on
Just another 12 days and our new Edition 30 catalogue launches. This is not just a catalogue, think finishing guide book, inspiration and ideas resource, display packaging and presentation guide as well as all the usual supplies you need, from staples to laminating film to double sided tape.  Presco is always on the move and as your business changes we are changing too. Look out for the new products in the catalogue and our extended range of Guarantape, a premium range of double sided tapes that are far better and more trustworthy than anything we have sold before. From basic...
Posted by Jessica Joynt on
HOSTING AN EVENT? EXHIBITION AT A SHOW? ATTENDING A SPECIAL OCCASION? IF YES, THEN WE HAVE SOMETHING WHICH WILL HELP YOU SAVE A LOT OF TIME. Presco is providing a comprehensive collection of identity & event supplies. This range is a professional selection of handpicked products by industrial experts to ensure you get best quality price possible. These Products will look professional and we all know that a profressional look these days is the key to biuling that important trust between your valuable brand and prospecs. You are probably wondering what the Identity & Event sample pack is? In every...
Posted by Phoebe Pomeroy on
Think of all those counter-top signs you see at newsagents, bars, resaurants, exhibitions, shops and more. Some use plastic poster holders, some slotted into menu clips and many more using some kind of stut to hold them there. THE SHOWCARD STRUTS WE SUPPLY ARE AVAILABLE IN NINE DIFFERENT SIZES! From 90mm height right up to 570mm height. The strut will usually need to be about 2/3  of the height of the poster of showcard. When it comes to gluing on the strut to the showcard the most common option is standard lengths of double sided tape.  Fingerlift tape is ideal...
Posted by Jessica Joynt on
WANT TO EXTEND THE LIFE OF YOUR DRILL BIT? Before your drill bits overheat, spoil or leave that 'dull' look on your job - take action! Below are some helpful suggestions on how to extend the lifetime of your paper drill bits.  Be sure you have the correct drill bit for your machine Use waxing paper to ease the drilling process Regular re-sharpening will bring back the cutting edge If you do a lot of paper drilling you should think carefully about ways to extend the performance and life of drill bits - it can be very costly having to keep...
Posted by Jessica Joynt on
Plastic coil binding from Presco Online. Plastic coil binding, or Plastikoil or several other names – is a simple and colourful range of hardened plastic coils for an alternative spine binding option from the much used wire and plastic comb binding systems. The disadvantages of traditional wire binding - that it can be crushed, pushed out of shape or pull apart - and the disadvantages of plastic comb binding – that it will perish, be opened very simply, become brittle and spines break off – are all quoted as reasons why plastic coil binding is the logical and permanent successor...
---